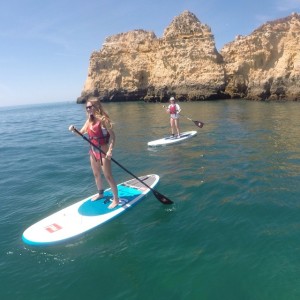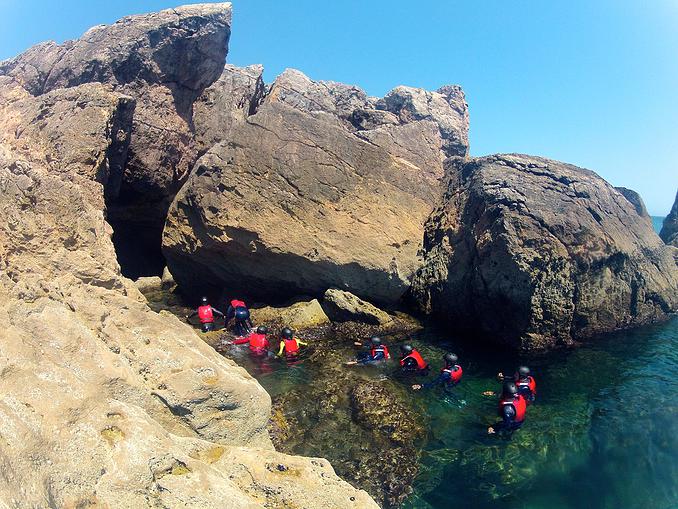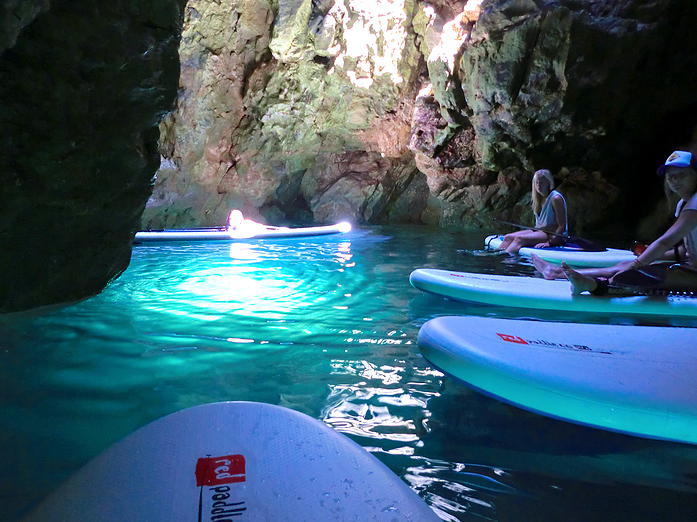 STAND UP PADDLE BOARDING
FIND A NEW WAY OF DISCOVERY!
Stand Up Paddleboarding (SUP) uses a huge surfboard (the SUP board) which you stand up on to paddle around on sea and river. Easier and safer than surfing it enables you to gaze at the surrounding views and spot fish and wildlife under the water's surface.
SUP is great for exploring rivers, lagoons, coastline, grottoes, cliffs and hidden beaches along the south western Algarve coastline.


COASTEERING
A GREAT DAY FOR GROUPS AND FAMILIES
Go swimming in the ocean, cliff jumping and climbing along the coastline between Lagos and Sagres on the south west Algarve.
We will take you to our stunning Coasteering location, right in the beautiful Natural Park of Costa Vicentina.
Fully qualified guides will show you the basics and all safety techniques. All equipment is provided – all you need to bring is a towel and swimming costume and, of course, sunscreen.
Included: Hotel pick-up and drop off (July and August only in Sagres area).Transfers. Insurance. Equipment for paddle boarding/coasteering: board, paddle, wetsuit, buoyancy aid, helmet, shoes. Photos of your session. Fully qualified guide.
CHOOSE FROM A VARIETY OF TOURS – RIVER AND COASTAL
Coastal and Caves Tour
Highlights: Hidden caves and grottoes, jump off a cliff for an adrenaline thrill (optional), swim among the fish, spot Atlantic sea birds, discover huge cliffs and secret beaches.
Explore the hidden coastline of southwest Algarve and discover places you would never see on a boat tour.
After your training from our fully qualified guide you start off slowly, stopping to enjoy magnificent grottoes and rock formations, visit hidden beaches and marvel at the turquoise water in easily accessible caves. Try some cliff jumping for an adrenaline kick – or just splash around in the beautiful warm water if you prefer to take things gently.
Total activity time 4-5 hours; Water time 2-3 hours
40€ per person October to May / 50€ per person June to September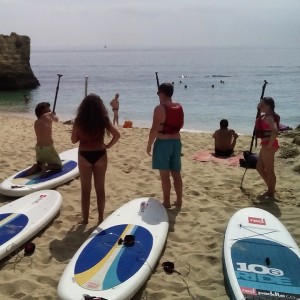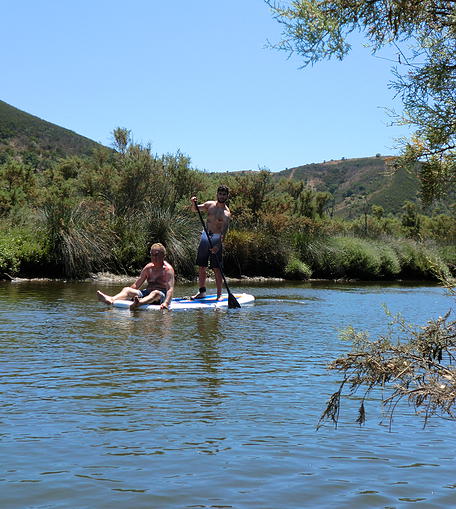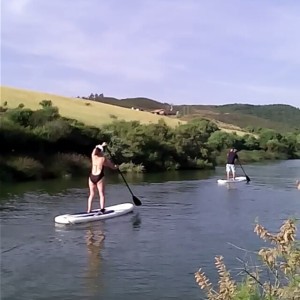 River to Sea Tour
Highlights: Perfect safe conditions - easy to learn, enjoy nature at Costa Vicentina Natural Park, changing river views, beach, birdwatching, ideal for families with kids.
This tour down the Aljezur River to the stunning beach of Praia da Amoreira is ideal for all ages and is a great family day out.
This tour is safe, easy and relaxing, yet it's a fun paddle. We will take you to two of the most beautiful places in the Costa Vicentina Natural Park – the Aljezur river and Amoreira Beach.
After your lesson on negotiating a calm water environment on your SUP board we start on a narrow canal deep in a densely wooded valley then the aspect changes to open fields and finally salt marshes and sand dunes as we paddle towards the Atlantic ocean. Spot shellfish growing on the banks as you near the sea. On the low tide local and migrating birds love to feed and rest here. On your journey fish will jump out of the water as we paddle by.
The sound of breaking waves and the smell of salt water lets you know that you are arriving at your destination. Amoreira beach and the beach lined estuary is perfect for a swim and to let the kids run free – they love it here!
Total activity time 4-5 hours; Water time 2-3 hours
40€ per person – October to May
50€ per person – June to September
Family Day Tour – special discount
Highlights: Quality family time makes a memorable day, standup paddle boarding in sunny Algarve, perfect safe conditions, easier to learn than surfing, lagoon or estuary tuition, seaside.
We offer special discounts for families for a great outdoor experience. Bond with your kids and partner for an unforgettable day!
You will learn to paddle board at one of our stunning locations right in the heart of the Costa Vicentina Natural Park. This will be at a river or lagoon just behind the beaches of Bordeira or Amoreira on the west coast of the Algarve, where the water is calm and warm. An ideal environment to learn how to use your SUP board.
Then it's time to have fun! You can paddle together on the same board with your kids – or with your partner – you can even bring your dog! Explore the coastline and look out for fish and birds while taking in the gorgeous surroundings. Afterwards you can relax on the beach.
Total activity time 4-5 hours; Water time 2-3 hours
October to May
Adult: 40€ per person Kids up to 14 years: 20€ per person
June to September
Adult: 50€ per person Kids up to 14 years: 25€ per person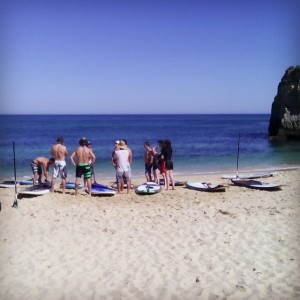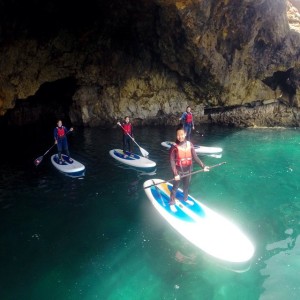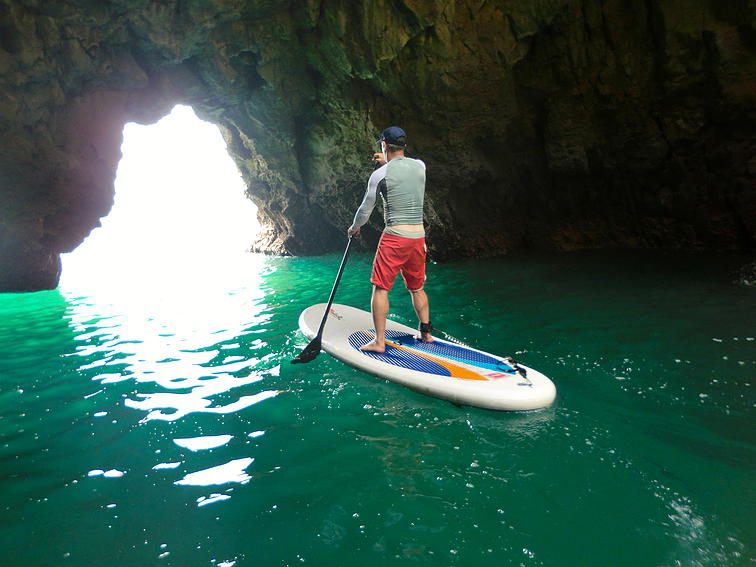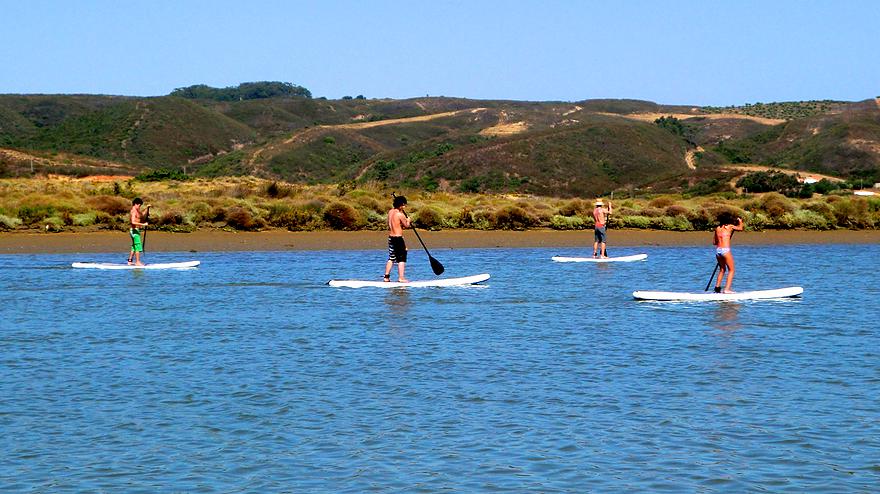 River and Grottoes Tour – full day
Highlights: All day tour in the sunny Algarve, two water environments in one day – river and ocean, perfect safe conditions, Costa Vicentina Natural Park – river, marsh dunes and beach, cliff jumping (optional), huge cliffs, rock formations and secret beaches, caves and grottoes, birdwatching.
This tour is ideal for watching birdlife. You will learn both Flat Water skills on the Alzejur river which flows to the Atlantic coast and Open Ocean skills on a secret beach near Sagres in the south west Algarve. After starting out on the Aljezur River we take a snack break and then head by coach to a secret beach near Sagres in the middle of the Costa Vicentina Natural Park. Enjoy an amazing Stand Up Paddle along the coastline exploring grottoes, caves, huge cliffs, beautiful rock formations and marine and bird life. The opportunity for a cliff jump into the sea is there for those that are up for it.
Coasteering Tour
Highlights: cliff jumping (optional), ocean and cave swims, climbing, coastal walk, marine life, beautiful location.
This tour is good for groups such as hen and stag parties, but also for families who like outdoor activities as our routes are made according to the group's abilities and weather and sea conditions.
The activities are based between Lagos and Sagres – our stunning Coasteering location is right in the beautiful Natural Park of Costa Vicentina.
The tour begins by exploring the coastline with its hidden beaches, incredible cliffs, rock formations and clear ocean waters. We will tell you about the marine environment and local traditions of the Algarvean people. You'll be swimming in the ocean and sea caves, climbing and walking along the rocky shoreline and doing some cliff jumping! We can even jump inside the grottoes! After all these exertions we will walk back over the cliffs along the coastal path with its beautiful sea views.
Total time 4 hours.
35€ per person – May to June
40€ per person –October to May