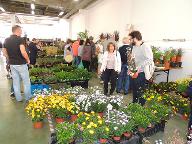 Watch out for the Mediterranean Garden Fair each year for the chance to buy a fabulous range of plants. See our Gardening page for more information
Sun, sea, surf and ... freedom!
The Wild Southwest of Portugal – long sandy beaches, world class surfing, great seafood and wonderful wines – all of these in an area of outstanding natural beauty and a region of great historical interest. The climate here is agreeable for most of the year with over 300 days of sunshine – so it's not just for summer holidays – even Christmas can be sunny and warm!
Drive for miles along empty roads, see the breathtaking views in the 'serras', smell the wild herbs, eucalyptus and pine forests, listen to the silence. From Atlantic coast surf camps to quiet retreats and holiday villas, the Wild Southwest has something for you. Experience life in the slow lane – and all this only 30+ kilometres from the busy southern Algarve coast!
Find Europe's 'best conserved' coastline
The Wild Southwest encompasses the National park of the Costa Vincentina de Alentejano that stretches from Sines to Sagres. This means the whole coastline is protected from overdevelopment and is known to be the best conserved in Europe. Explore the cliffs to find storks, hawks and swifts, the sand dunes which offer a special habitat for rare plants and the estuaries that have breeding grounds for fish and crustaceans.
Marvel at the Atlantic rollers while eating fresh, locally caught seafood – the sea bass is divine and the clams with coriander superb!
Travel inland for scenic beauty
In the hills are forests of oak, pine and eucalyptus where eagles soar and wild boar roam. Beautiful reservoirs, stocked with Black Bass and carp are a fisherman's dream. Spot the Strawberry tree, the fruits of which are distilled to make Medronho, a local schnappes. Bring your binoculars to search for rare and beautiful birds. Walk the Rota Vincentina, a long distance coastal path.
In the valleys farmers live as they have always done – growing olives, fruit and vegetables, keeping 'black' pigs and a wide variety of poultry. Visit the Way of Life page to find out more.