Discover the beautiful scenery and wonderful warm climate of this region.The wild Southwest has a wide network of mainly unmapped dirt tracks that are great fun to explore on a mountain bike – or why not get down and dirty and try quad biking?
On the tarmac roads it is normal to meet only the occasional car which explains the tremendous popularity of road cycling. Experience the thrilling downhill bike ride below from Foia, the highest point in the Algarve, to Monchique with a spectacular view to the south coast on the right.
For exploring by campervan please visit our Camping and Glamping page
Cycling
There are cycling trips for all levels of ability. Meander through colourful drifts of spring flowers and forests or see the ripening grapes and wheat fields in the autumn. Visit archaeological sites, fantastic beaches and unspoilt villages as you pedal along some of the quietest roads in Europe. The more adventurous choose to ride a mountain-bike as in this part of Portugal most roads are still unpaved, so you can go on forever and just follow your nose. Mountain biking (called BTT in Portugal) is very popular among the Portuguese.

Come and join an Algarvian bike ride. Participate in a leisure event or competion that takes you along amazing tracks and scenery put together by local riders.

The mountain bike route at Carrapateira is a great opportunity for bikers to appreciate the spectacular scenery of the Vicentina coast. Various well accessible view points have been created to enjoy this rough and wild scenery of the Vicentina Natural Park in safety.
Distance: 17,46 km
Accumulated ascent: 212 m.

Cycling holidays in the Wild Southwest
Quad biking
Get an adrenaline rush and go off road with on a quad bike. See the scenic tracks of the Wild Southwest and ride over countryside that would be difficult terrain on foot and impossible by car. The panoramic views in the serras are breathtaking and on the forest trails you can breathe the scent of eucalyptus and pine .
The bikes are easy to ride, especially for those with lower limb disabilities, and fun for kids and grown ups. The tours suitable for individuals, groups, families, stag and hen parties, you must be over 20 years old with a full driving license to drive and over 8 years old to be a passenger. No previous experience is required.
Quad bikes, also known as All Terrain Vehicles travel on wide, low pressure tyres so they are very stable and as the name implies, are designed to handle a wider variety of terrain than most other vehicles.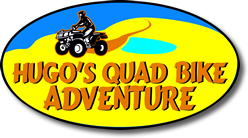 Main photo © BTT Clube dos Pinheiros