With one of the highest diversities of birds in Europe about 330 species visit this beautiful and sparsely populated region. White storks nest on the coastal cliffs while eagles soar above the mountains; great bustards are found the plains and the extraordinary hoopoe with its remarkable crest is a summer visitor. Bird watching in the Wild Southwest provides thrills galore! To find out more about birdwatching in Portugal visit SPEA (The Portuguese Society for the Study of Birds).
An excursion through the Southwest Alentejo and Vicentine Coast Natural Park, gives you the opportunity to observe a natural phenomenon, impossible to find on any other coastline other than the Alentejo sea cliffs: the white stork nests built on top of the rocks and scarps. This wild and rare area is also an excellent place for bird-watching as the park is home to other species such as the Osprey or the Peregrine Falcon.
This birdwatching paradise includes the following species:



White Stork, Black Stork, Bee Eater, Hoopeo, Little Eagle, Golden Eagle, Imperial Eagle, Crested Cuckoo, Great Spotted Woodpecker, Red Backed Shrike, Black Kite, Black Redstart, Egret, Raven, Redstart, Stonechat, Corn Bunting, Crested Tit, Nuthatch, Serin, Goldfinch, Great Grey Shrike, Long Legged Buzzard, Marsh Tit, Red Kite, Red Legged Partridge, Quail, Short-toed Treecreeper, Osprey, Peregrine Falcon, Woodlark, Red-rumped Swallow, Iberian Chiffchaff, Firecrest, Crested Tit, Cirl Bunting, Roch Bunting and many others.
Inland the Monchique serras are the highest mountain range in the Algarve. They are covered by dense vegetation and can be a pleasant place to roam during the hot days of summer. For the visiting birdwatcher, this is an interesting area; here it is possible to find several different species of birds that are rare or totally absent in the coastal areas, such as the Woodlark, Red-rumped Swallow, Iberian Chiffchaff, Firecrest, Crested Tit, Cirl Bunting, Roch Bunting. The Serra de Monchique is also an important site for conservation of Mediterranean diurnal and nocturnal raptors.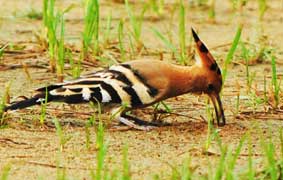 Hoopoe Photo © Praabhatgupta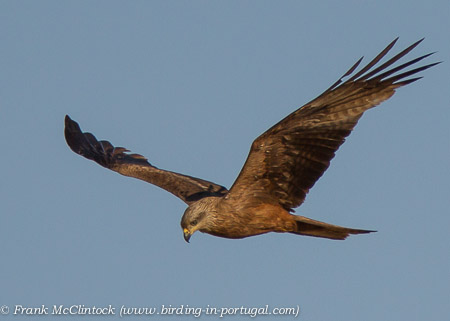 Above: Black Kite Below: Great Bustards
Photos © Frank McLintock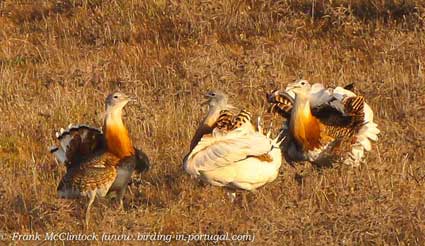 Birding in Portugal offers guided and non guided tours throughout southern Portugal as well as bird and nature photography. Hosted at Paradise in Portugal, a stunning location on the shores of the Santa Clara reservoir.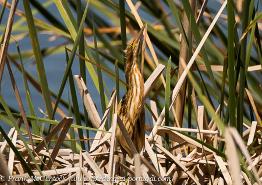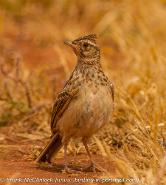 Permits/Licences
If you wish to visit a protected area (national park, natural park or nature reserve) with an organised group, you must contact the Instituto da Conservacão da Natureza e da Biodiversidade here in advance, so that they can issue you with a special permit for this purpose. if you wish to visit a private property, you must contact the owner in advance.
Special Rules of Conduct for Birdwatchers
Respect local traditions and lifestyles.

Respect private property, close all gates.

Do not make any noise and do not disturb

the peace of local sites.

Keep at a distance from the birds

and watch them through binoculars.

Do not pick plants, capture animals

or take geological samples –

only take photographs.

Respect the signposting of protected areas.

Footpaths must always be used only

by small groups.

Do not light fires.

Each person is responsible for the rubbish

that they produce; they should take it away

with them and dispose of it in appropriate places.

Contact the authorities whenever you notice

some irregularity.

Let our experienced guide, a birdwatcher for almost 30 years, take you out on a field trip to the rolling plains of the southern Alentejo. White Stork nesting is widespread, often accompanied by Spanish Sparrows. Great and Little Bustards can be spotted and Black-shouldered Kite, European Roller, Western Rufous, Scrub Robin, Calandra Lark, Lesser Kestrel, Black-bellied Sandgrouse and Montagu's Harriers. Griffon and Eurasian Black Vultures occur from spring to autumn. The Golden Eagle and the Spanish Imperial Eagle hunt in the area. Cranes overwinter, as well as large numbers of Lapwing and Golden Plover. English, German, basic French or Portuguese is spoken.

Main photo: Storks © Regasterios,